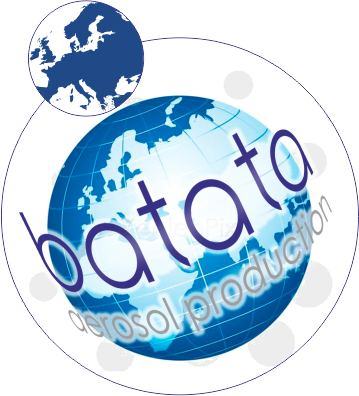 ESTABLISHED ON 01.07.2010
BATATA LLC is the national manufacturer of household chemical goods in aerosol packaging (air fresheners, shaving products (foams, gels), hair care products, sunscreen products, polishing agents, creams, antistatic agents, shoe care products, insecticides and repellents, silicone grease, filling services, as well as the production of heads, the "spray caps" of the protective cap. The company's production facilities are located in the city of Belaya Tserkov, Kiev region. Our friendly staff is a team of people for whom the priority is to create an ideal product that meets the market needs. Currently, we work on the basis of the ISO 9001: 2015 quality management system.
To date, the company exports products to such countries as Kazakhstan, Belarus, Moldova, Uzbekistan, the Czech Republic, the Baltic countries, etc. The company provides all the relevant regulatory documents for the supplied goods, including CT-1 certificates of origin (for the TC countries) and Euro 1 certificates (for EU countries). Part of our products are certified, meet the requirements of the European Union and the CIS Customs Union. In the export mode, supplies of both BATATA own TM and under the importer's TM can be carried out.
Strive to become a company that will be able to satisfy the needs of our customers worldwide.
Satisfy of consumers' needs for high-quality aerosols
Ensure the use of the most effective production methods and methods of product quality control.
Growth of productive capacity and integrated rationalization of company management.
Control at each stage of production.
Raw materials and components quality control used for our production.
Individual approach to each client.
Flexible pricing policy.
Many years' experience.
Highly qualified staff.

Аdress: Ukraine, Kiev region, 09106, Belaya Tserkov, POBox 26
Теlephone: +38 (067) 005-64-92
E-mail: info@batata.com.ua